Una residencia 1932
Arquitecto: Manuel Mujica Millán
"Casa de habitación para una pareja. El arquitecto y su esposa, viviendo en 1932, en Caracas: aire, luz, trabajo, higiene, confort, economía. Tal es el programa. El arquitecto se construye varias villas sucesivas entre 1929-32 en el nuevo barrio de Campo Alegre, "a diez minutos del centro de la ciudad", del que también diseñó el urbanismo, sobre la estancia colonial de Pan Sembrar. Son estas sus casas, sus residencias particulares, pero también sus esquicios, sus experimentos arquitectónicos y urbanos. Allí no diseña para otros: él es su propio cliente, es a él mismo a quien debe complacer a plenitud en el gusto arquitectónico; aquí podrá permitirse a sí mismo expresar con libertad su voz más personal, aquí desnudará de estilos su arquitectura, y su corazón.
Las casas de los arquitectos son generalmente el retrato de su ideal de vida, confeso u oculto. Manuel Mujica escoge, y no edifica su casa en neo-barroco ni en estilo vasco ni en neo-colonial, -aunque mucho admire la arquitectura local- y muy bien le salgan esos estilos: Las Guaycas ("las lanzas" en lengua aborigen del valle de Caracas) es literalmente una casa como una punta de lanza que blande con su agudo Estilo Internacional por primera vez el país tradicional. Ello le amerita su declaratoria en 1993 como Monumento Histórico, en virtud de ser la "primera edificación moderna en Venezuela". Nuestra primera villa moderna es totalmente contemporánea a las primeras villas modernas europeas, y en su propia dimensión, tan revolucionaria como ellas: la Villa Noailles (Mallet-Stevens, Hyères) es de 1934, la Villa Savoya (Le Corbusier, Poissy) es de 1929-31; E-1027 (Eileen Gray, Cap-Martin) es de 1929.
Mujica había llegado a Venezuela en 1927, viniendo de la ciudad de Barcelona, donde había egresado de la Escuela Técnica Superior dos años antes. Su maestro, Josep María Jujol, le había hecho recorrer plamo a palmo la ciudad y el paisaje, y dibujarlos para aprenderlos. Pujol, el literalmente excepcional, el dibujante excelso, el esgrafista, en su propia obra ya en ese entonces preconizaba una incipiente modernidad catalana, que si bien estaba llegando retardada, es cierto, se anunciaba como intensamente personal. Es esta la misma modernidad que exhudará Manuel Mujica Millán lejos de Barcelona, aquí en Caracas: lírica, profusa, mestiza, catalana, personal. Nada más su Casa-Barco (1936) (según Gasparini & Posani, 1967, "la mejor obra de arquitectura moderna anterior a Carlos Raúl Villanueva") es un homenaje sensible a la Casa Planells en Barcelona (1923) de Jujol. Eran años en los cuales la distancia entre la arquitectura catalana y el movimiento moderno en Europa, tal y como tomó forma en los años veinte, tuvo su mejor ejemplo en los edificios de la Exposición Internacional de Barcelona en la colina de Montjuic: "Allí el brillante pabellón alemán de Mies van der Rohe, con sus referencias a las ilusiones espaciales de De Stijl, a la horizontalidad de Frank Lloyd Wright y, más alusivamente, de regreso hasta Schinkel, era en toda su abstracción un completo contraste a los pesadamente monumentales y severos edificios catalanes de la época" (Mackay, 1989).
Mujica había hecho también edificios así, cuando todavía estaba en Barcelona, pesados y solemnes, como la capilla del Palacio Real de Pedralbes, en 1922, y en el proyecto de Urbanización del Barrio de Atarazanas. Pero ahora podemos imaginarlo yaen Caracas, alojado en el Hotel Majestic, trabajando en las obras de refuerzo de las fundaciones, recibiendo la columna de Eugenio D´Ors en La veu de Catalunya, donde D´Ors clamaba por una nueva arquitectura para la ciudad, contemplando las nuevas imágenes publicadas donde se develaba el rutilante Pabellón de Barcelona. Difícilmente se ha conocido en la historia de la arquitectura edificio más influyente. Y así como no hay obra de arquitectura ingenua, no hay arquitecto no contaminado. Contemplemos Las Guaycas: las múltiples superficies vidriadas dan una luminosidad selectiva a los ambientes (creemos estar en un inmueble de la rue Mallet-Stevens; la luz del trópico se tamiza y difunde una claridad de un blanco amable, casi mediterráneo); la articulación de la volumetría cúbica se hace con la complejidad usoniana de una pradera distinta, pero ni es una articulación sólo cubista, ni una articulación sólo neoplástica: adivinamos aquí el barroquismo fluido de un Noucentismo rezagado, que eliminado de recursos decorativos, ausente del color, estructurados sus espacios en "constelaciones de núcleos relativamente autónomos" retoma su recorrido en una secuencia visual más compacta, fluída, dinámica y unitaria, que transita, con una sabiduría personal, hacia el racionalismo"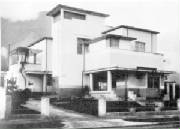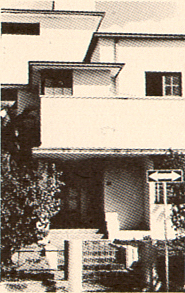 A 1932 Private Residence
Architect: Manuel Mujica Millan
"This is the house for a couple. The architect and his wife, living in 1932, in Caracas: air, light, work, health, comfort, economy. That is the program. The architect builds for himself several sucessive villas between 1929-32 in the new neighborhood of Campo Alegre, "ten minutes from the center of the city", for which he also designed the urbanism, on the colonial hacienda of Pan Sembrar. These are his houses, his personal residences, but also his sketches, his urban and architectural experiments. Here he is not designing for others: he is his own client, and is himself who he has to delight in architectural taste; here he may allow himself to express his most personal voice with freedom, here he will unveil from all styles his architecture and his heart. Architects´ houses are generally the portrait of their ideals about life, confessed or hidden. Manuel Mujica makes a choice, and he does not build his house in Neo-baroque nor in Basque Style nor in Neo-Colonial Style, -although he much admires local architecture and manages very well in these styles-: Las Guaycas ("The Lances" in the valley of Caracas´ native language) is literally a house as a tip of a lance that displays its acute International Style for the first time in a traditional country. Venezuela´s first Modern villa is totally contemporary with the first European and American Modern villas, and, in its own dimension, is as revolutionary as them: the Ville Noailles (Mallet-Stevens, Hyères) is from 1934, the Ville Savoya (Le Corbusier, Poissy) is from 1929-31; E-1027 (Eileen Gray, Cap-Martin) is from 1929. Mujica had arrived in Venezuela in 1927, coming from the city of Barcelona, where he had majored from the Escuela Tecnica Superior two years before. His teacher, Josep María Jujol, had made him walk inch by inch the city and its landscape, and draw them to learn them by heart. Pujol, the literally exceptional, the master draftman, in his own work had announced at the time the incipient Catalan modernity, which, it is true, although arriving in delay, was announced as being intensively personal. This is the same kind of modernity that will transpire Manuel Mujica Millán away from Barcelona, in Caracas: lyric, profuse, ethnic, Catalan, personal. Only his Casa-Barco (1936) (according to Gasparini & Posani, 1967, "the best work of Modern Architecture prior to Carlos Raúl Villanueva") is a sensitive tribute to Jujol´s Casa Planells in Barcelona (1923). Those were years in which the distance between Catalan Architecture and the Modern Movement in Europe, as it took form in the twenties, has its best example in the Exposición Internacional de Barcelona´s buildings, on the hill of Montjuïc: "There, Mies van der Rohe´s briliant German pavillion, with its references to De Stijl´s spatial illusions, to Frank Lloyd Wright´s horizontality and, more directly, back to Schinkel, was in all its abstraction a whole contrast to the heavily monumental and severe catalan buildings of the time" (Mackay, 1989). Mujica had also done buildings like this when he was still in Barcelona, heavy and solemn, like the Chapel of the Palacio Real de Pedralbes, in 1922, and the Barrio de Atarazanas Urbanization Project. But now we can picture him already in Caracas, living in the Hotel Majestic, working in the hotel´s foundations reinforcement works, receiving the writings of Eugenio D´Ors in La veu de Catalunya, where D´Ors claimed for a new architecture for the city, looking at the newly published images revealing the splendid Barcelona Pavillion. There has been hardly in the history of Architecture a more influencing building. And, as there is no ingenuous piece of architecture, there is no un-polluted architect. Let´s observe Las Guaycas: the multiple glass surfaces bring selective luminosity to the rooms (we think being inside a building of the rue Mallet-Stevens; tropical light is diffused, spreading a white clearness, almost Mediterranean); the articulation of the cubic volumetry is made with the Usonian complexity of a different kind of prairie, but it isn´t an only Cubist articulation, nor an only Neoplastic articulation: here we guess the fluid baroquism of a delayed Noucentisme, which, deprived of all decorative resources, absent from color, its spaces structured in "relatively autonomous nucleus´ constellations"; retakes its promenade in a more compact, fluid, dynamic and unitarian visual secuence, travelling with personal wisdom towards Rationalism".
Hannia Gómez. Caracas, 2002.