La Fundación de la Memoria Urbana fue creada el día 25 de julio de 2000, día de la ciudad de Caracas, a raíz de la demolición del Edificio Galipán en la Avenida Francisco de Miranda.
Fundación de la Memoria Urbana was created the 25th of July 2000, anniversary of the city of Caracas, following the demolition of the Edificio Galipán on Avenida Francisco de Miranda.
Misión
Nuestro objetivo es defender, salvaguardar, difundir y promover la memoria arquitectónica y las memorias urbanas, paisajísticas y ambientales que conforman la imagen, el lenguaje y la tradición de la ciudad de Caracas, de las ciudades de Venezuela y de la región latinoamericana. Promover el renacimiento de una cultura urbana, impulsando el aumento de una conciencia activa de la memoria en la población ciudadana, especialmente en la no-arquitectónica. Ampliar, mejorar y perfeccionar la legislación existente, para lograr la protección y la conservación del patrimonio urbano en toda su complejidad y belleza, y favorecer la acogida de todos los períodos completos y los estilos complejamente diversificados de nuestra historia urbana, desde los vestigios más lejanos hasta las expresiones más recientes. Hacer que la información esté al alcance de todos para que fluya libremente; mapear de nuevo la ciudad, registrarla e investigarla, capa por capa, inventando la nueva nomenclatura de sus hechos arquitectónicos, urbanos y paisajísticos, de acuerdo a un código libre de dogmas y de compromisos, anclado en la imaginación, en la libertad y en la cultura universal. Retrazar la arqueología de lo urbano, lo geográfico, lo geológico, lo natural, lo imaginario, lo literario, lo poético y lo arquitectónico. Buscar nuevos horizontes, nuevos caminos y nuevas pistas.

Mission
To defend, protect, spread and promote the architectural, landscaping, environmental and urban memories that conform
Latin American, Caracas and other Venezuelan cities, their images, languages and traditions. To promote the renaissance of urban culture, forwarding the rise of an active mnemonic conscience among the population, specially in citizens not directly related to Architecture. To widen, improve and perfectionate the existing legislation, in order to achieve the protection and conservation of the urban patrimony in all its complexity and beauty, welcoming all periods and every complexily diversified style of our urban history, from the farthest vestige to the most recent expressions. To put information at reach for everyone, so it can flow freely. To map, register and research again the city, layer by layer, inventing a new nomenclature of its urban, architectural and landscaping facts, according to a dogma-free and compromise-free code anchored in imagination, freedom and in the universal culture. To retrace an urban, geographical, geological, natural, imaginary, literary, poetic and architectural Archeology. To search for new horizons, new paths and new clues.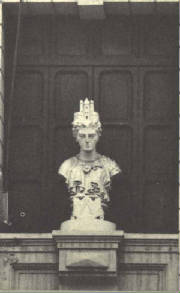 Tykhé, diosa de la ciudad de Caracas. Antigua Academia de Bellas Artes, hoy Escuela de Música José Angel Lamas (1904). Avenida Rafael Urdaneta, Caracas. Escultura del catalán Angel Cabré i Magriñá.
Tykhé, Caracas City Goddess. Old Academia de Bellas Artes, today Escuela de Música José Angel Lamas (1904). Avenida Rafael Urdaneta, Caracas. Angel Cabré i Magriñá, Sculptor (Catalunya).